Invoice Factoring Vs Bank Line of Credit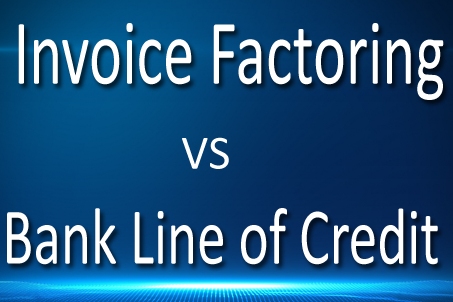 What is invoice factoring?
Invoice Factoring is the sale of your accounts receivable or an single invoice. When you sell an invoice, the factoring company will give you the lion share of the cash up-front, normally within 24 hours of a verification. The factoring company typically advances you 80% – 90% of the invoice face-value within 24 hours, the balance goes into your reserve account. This money stays in this account until the factoring company is directly paid by your customer. The factoring company pays you; your customers need to pay the factoring company directly. Once you sell an invoice, that invoice is now owned by the factoring company, it becomes their asset.
After your customer pays the factoring company the full face value of the invoice. The factoring company typically will send you back your reserve money less their factoring fee. The factoring fee is based on the monthly volume that you sell them, the industry that you are in, the number of customers are you going to factor and the time-frame that it takes for your customers to make their payments. Most directly lenders use bank funds, which means they are paying interest on the money they give you. As interest rates are higher today (early 2023) than they were a year ago, then you can expect to pay a higher fee. Factoring rate last year ranged from 1.99% - 2.75%. Now you can expect factoring fees to be 2.25% - 3.25%, normally this fee is based on your customer taking a maximum of 30 days (from the date the invoice was purchased from you) to make their payment to the factoring company. The factoring fee will go higher, the longer it takes to get paid.
It is important to know that factoring companies are not in the business of buying bad debt. If you have customers that are not making their payments to you, it is unlikely the factoring company will purchase invoices from them. You customers need to be credit-worthy. It is not important for you to be credit worthy as the factoring company is paying you, not collecting money from you. Factoring is NOT a loan, it is just the purchase of your accounts receivable. Factoring is more expensive than a bank line of credit but do you qualify, will the line be what you need or what they are willing to give you? Let us see in the next section.
What is a line of credit?
A line of credit from the bank is a loan that you take out only as you need it. You pay back the loan amount in monthly installments based on the used portion of the line of credit that you have used. If you open a line of credit for $100,000 but you only used $50,000, you will pay the monthly installment based on the $50,000.
Can you get a line of credit? It involves a personal and business credit history, financial statements, bank reviews, time in business, underwriter approvals, industry you are in and if you have other outstanding liens/UCC filings on your business. Unlike factoring, your credit is critical in obtaining a bank line of credit. You and your business need to be approved, you customers do not. If you are approved, will it be enough to give you the cash-flow that you need to grow your business. Maybe you will qualify for a $50,000 loan but you really need 100K, sure it helps to get something but if it does not solve the problem, it might not be your best option.
Next Blog Post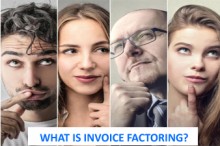 Invoice factoring is when a business sells an open invoice or invoices to a finance company for immediate cash. How do you manage your cash flow?